This blog is SEMI-Friends Only.
Public Posts Include:
Downloadable Content ||| Jam of the Week
Shit I See on SF MUNI ||| Notes of interest

To be added as a Friend for all Non-Public posts:
ONE. Comment to be added. All requests will be screened.
TWO. Be comfortable with mature content. Seriously.
I promise an update tomorrow afternoon.
The past 2 weeks have just been INSANELY busy!!!
STOP!!
This is a post you do not want to miss. Just give me 15 minutes of your time....
I came across this short film that everyone has been raving about. A couple minutes in, I realize that
Rider Strong
(Shawn Hunter from Boy Meets World) is in it! This short film,
Your Lucky Day
, is a MUST-SEE... it's INTENSE and POWERFUL! And trust me when I say - this 15 minute short is as amazing as many of the 120 minute feature films out there.... Press Play.
Your Lucky Day from Dan on Vimeo.
I know this song came out a while back, but it's getting it's spot now as
Jam of the Week
thanks to John Wall. I was watchin' basketball with
Leon
and
Jeff
the other day and I saw John Wall do the Dougie for a hot 30 seconds as his intro & I haven't stopped showing people since.... check it out:

A while back, Chris Brown was also spotted doin' the Dougie at a show.... he makes it look so much harder.


JAM OF THE WEEK: California Swag District - Teach Me How to Dougie

Report Broken Link. Once a report is submitted, I will fix the link ASAP. Thanks.
Before I bounce out to this party, I wanted to put out the Jam of the Week before the week is over!
Current Location:

home, 94132

Current Mood:

hyper

Current Music:

California Swag District - Teach me How to Dougie
Vincent
is dressing up as
Tim Lincecum
... and has been nicknamed by our family as "
Vincecum
." You can't even tell he's wearing a wig :-P Way to rep the
SF Giants
!!!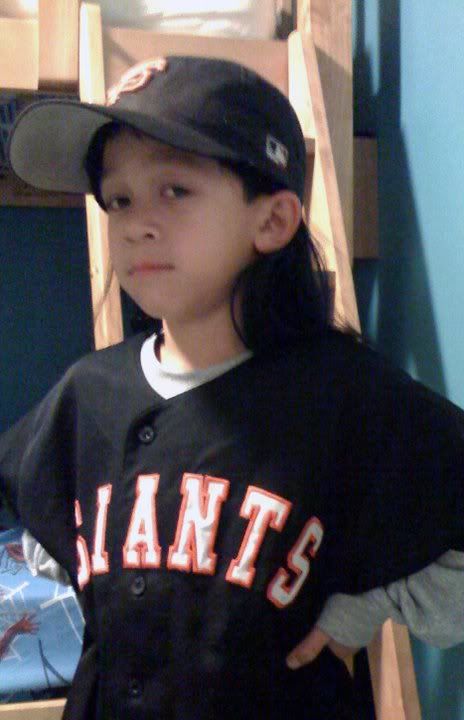 For Halloween, my 6-year-old cousin
Jam of the Week for the last full week of October........
Current Mood:

happy

Current Music:

Snoop Dogg ft. Marty James - New Years Eve


He was more shocked that people just casually smoke around San Francisco. Yo... It's San Francisco. Just a heads up to everyone reading... a bill was passed stating that anyone caught with less than an ounce of cannabis will be given a $100 fine. Nothing on your record, no jail time. It's treated as a littering or speeding ticket. IN CALIFORNIA.

Whoever uploaded this video also put a blurb to Vote Yes on Prop. 19, which will make cannabis available for recreational use and home growing for smokers 21+ in California if it's passed. Of course, he had to put the background song... Still Blazin by Wiz Khalifa off the Kush & Orange Juice album during that pro-Prop 19 ad... lol. The video was deleted and I had to find another one of the same report... none of which have the Prop 19 ad at the end.


This reporter was sent out from Texas to make a report about the World Series: San Francisco Giants vs. Texas Rangers.
A few months ago, Tyga and Pharrell teamed up in the studio to make this week's Jam of the Week!
Current Mood:

full