She's got the voice of a grown woman and dances with style - So Adorable!! Peep the video! Willow is signed to Jay-Z's Roc Nation label with a release date in the works.
Willow Smith - Whip My Hair
Report Broken Link. Once a report is submitted, I will fix the link ASAP. Thanks.
Yo! Willow Smith has got some serious skills and she's only 9 years old!!
Current Mood:

dancin

Current Music:

Willow Smith - Whip My Hair
Doo-Wops & Hooligans
album.
Then, I found a YouTube video of
Bruno Mars
singing this song much slower without the fast beat in a concert at the Grove... and I fell in love with his voice all over again!
So Jam of the Week:
Bruno Mars - Grenade
!
Check out the videos of both the CD version and the Live concert version:
CD VERSION:


LIVE CONCERT VERSION:


Report Broken Link. Once a report is submitted, I will fix the link ASAP. Thanks.
I have been singing this song all week long since I copped the
Curren$y
- a Louisiana artist who was signed to
Young Money
til 2007. After that, I was hooked - grabbing the recent album release
Pilot Talk
(July 13, 2010).
Then my cousin,
DJ ANT-1
, invited
Leon
and me to one of his shows... featuring Curren$y. Of course, we didn't turn it down. Check out the promo flyer:
There, Leon and I met up with my cousins
Anton
(DJ ANT-1) and
Angelo
(DJ GEL-O) who introduced us to the Ri$ky Bizne$$ crew and their sound guy,
Sonny Phono
- all cool peoples. There were a bunch of fans out there who came to support, many of them filling the place with smoke even after management tried to prevent it from happening and even kicked out a handful of people... I guess it came down to - what are you gonna do when all the clients that night are doing it and paid a fee to see the headliner, who is also known for smokin' wherever he goes? Plus, it's San Francisco... so what ya gonna do?
When you see the showcase video behind the cut, from 24KMilkCrate, you'll see all the smoke... there were no fog machines or special effects.
It was amazing to see my cousin spinnin' for the first time. I thought he was only gonna do a couple of solo sets and DJing for the Ri$ky Bizne$$ crew... then imagine my surprise when I see him DJing for Curren$y himself! I was blown away and it made my night even better. Check out some photos and videos behind the cut...
A few months back, I heard a track from
Current Location:

home, 94132

Current Mood:

creative

Current Music:

Curren$y - Audio Dope II
Jam of the Week
will be posted every Friday and will feature a new track that has really captured my attention, interest, and made me play it back several times during the week.
This week...
RZA ft. James Black, Justin Nozuka, & Killa Khan - Gone
I dedicate the song "Gone" to my friend Sally Menke and its my gift to her memory. I feel music is the best gift I can give and I'm giving it away to Wu-Disciples for free in her name. Who ever like the song can send a blessing of positive energy to Sally's family and her legacy. Peace.
Report Broken Link. Once a report is submitted, I will fix the link ASAP. Thanks.
I really fell in love with this song and it has inspired me to create a new project: "Jam of the Week"
But let me catch you up to speed on something new and exciting in my life (and Leon's life!).
We got a puppy!
We started
his blog
over at:
http://ButtersByTheBay.blogspot.com
!!
Our new puppy has been named after our favorite South Park character,
Butters
(aka
Professor Chaos
).
Butters
was born on April 19, 2010 and came home with us on June 30, 2010. He is a purebred yellow Labrador Retriever who comes from a long line of AKC Registered hunting dogs - we just didn't register him because we'll be neutering him with the East Bay SPCA on August 27th.
We've been clicker training him since we got him and he now knows....
Sit, Down, Paw/High-Five, Fetch, Give,
and
Stay
. He also knows that
Home
means to go in his crate and he likes to potty on lawns. If he isn't let out fast enough, he'll have an accident in the house, which is infrequent because he'd rather hold it til he got to a patch of grass.
He goes to
Muttley Crew
for doggy daycare, where he was boarded this past Tuesday night because Leon & I went to AT&T Park for a SF Giants game with the cousins. He's always tired after we pick him up from daycare... which is good since he's learning critical socializing skills with other puppies, dogs, and the staff. We also have doggy play dates with our friends' dogs.

Check out a video of Butters playing with Kaiya, our ex-roommate (Thea)'s chihuahua. At 11 weeks old, Butters learned he couldn't keep up with an adult dog - haha. He tired out quickly and fell asleep as soon as we got in the car to head home. I included a few photos for you all to check out too!



Butters' Play Date with Kaiya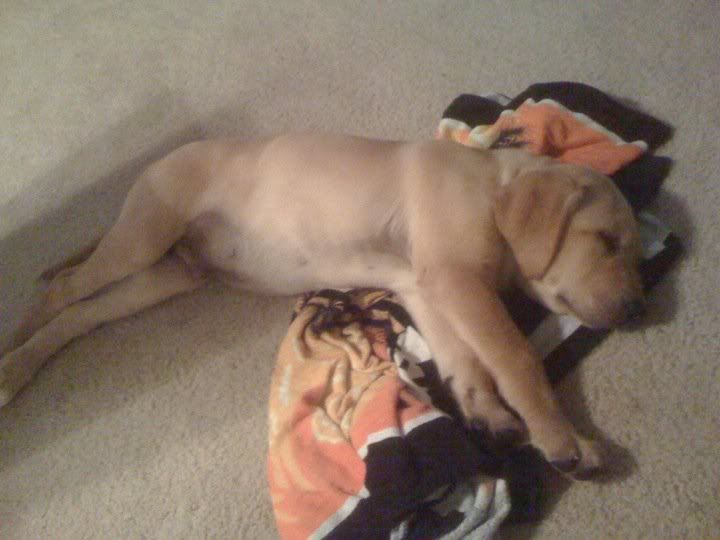 10 weeks old; Tired from his 1st day home with us



10 weeks old; Hanging out on the lawn



11 weeks old; Butters Playing with Kaiya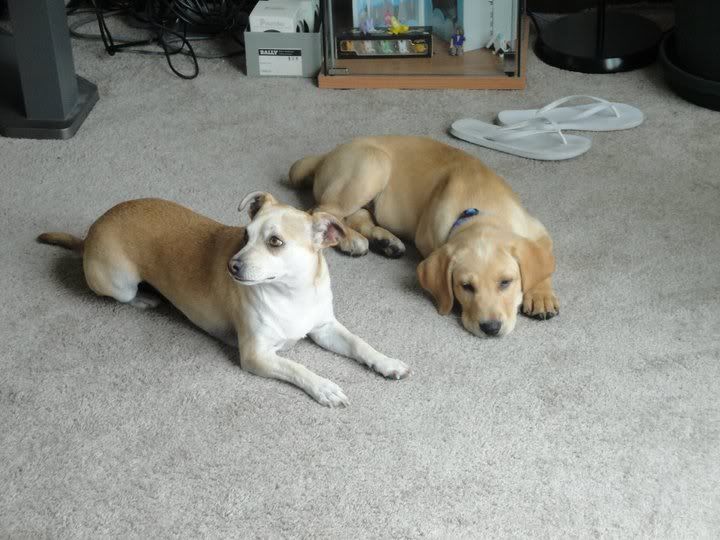 11 weeks old; Butters is already exhausted from 2 hours of play time
An 8 ounce cup of coffee. I was so sleepy that I really thought I needed it this morning... then I started to feel the effects of the caffeine. I was wired, I felt jittery, a little bit dizzy when I moved too fast, and I caught myself shaking my right leg under my desk at times. It kept me moving, but now the caffeine crash is taking control and I'm tired, restless, and a bit irked that it isn't 5pm yet.
How I Met Your Mother - Season 3 this weekend, thanks to Tara.

This part of Season 3 made me laugh SO hard for a good 5-10 minutes, that I literally cried my eyes out!! Neil Patrick Harris is my favorite :-)!!


I watched


No matter what side of the political campaign you're on, please watch the CBS interview below with Matt Damon speaking about Sarah Palin.



I originally posted this yesterday in a friends-only entry, but I wanted to make it public for all visitors to see.
===========================================
[o]
comment, even if you're using them outside of LJ
[o]
credit:
aimees
|
CLICK HERE 2 LEARN HOW 2 CREDIT![o]
no hotlinking
[o]
these are not bases, but you may add text - HOWEVER... if you add text, you still must credit me.
Teasers:




[01-08]
Gamer Icons
[09-13]
Forza Motorsport 2
[14-17]
Overlord
[18-24]
Rainbow 6 Las Vegas
(
Push My Buttons
Collapse
)
I've been pretty busy with the new job, but I took some time to finish up some icons since it's slowing down a lil bit. I wanted to put up a lot more, but I'll be taking some focus away from gaming icons to work on some Transformers ones and then making some website templates - so here's everything I did!!!
Current Location:

home, 94080

Current Mood:

hot

Current Music:

Huey - 2 Nite